MEET WELL. MEET SAFE.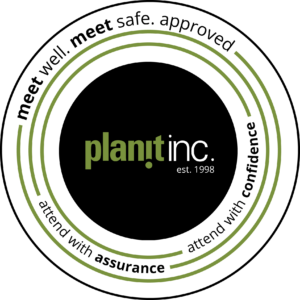 The meeting and event landscape is everchanging as a result of the COVID-19 pandemic. In response to these changes, planit inc. has developed an operational response plan to effectively get back to successful and safe event programs. Our meet well. meet safe. initiative serves as a baseline of recommendations to provide confidence and assurance when executing an event.
planit inc. is dedicated to redefining the future of the meeting and events industry. Please contact planit inc. to hear more about our pandemic response initiative.
meet well. meet safe.
meet well. meet safe.
meet well. meet safe. is a fluid event health document created from the perspective of protecting the client, attendee, event staff and hotel/venue when onsite. It is a blueprint on how to get back to hybrid and in-person events safely and successfully. We know meetings and events will look different in the near future, and we want to help clients navigate a new roadmap based on best practices and accountability. meet well. meet safe. has two facets: attend with assurance and attend with confidence.
meet now. meet smart.
meet now. meet smart.
meet now. meet smart. is our virtual to hybrid strategy. We know there is already a "virtual boredom and fatigue effect" occurring, and we have a goal to help our clients meet today on a digital platform, create unique activations and interest through event technology and also assist in the forward progression of an event marketing plan that eventually moves the event to a hybrid format.
meeting & event boxes
meeting & event boxes
Meeting and event boxes are part of our meet now. meet smart. initiative. Meeting and event boxes enhance the attendee experience, complement internal culture, create strong brand identity and offer a great opportunity for sponsorships. They are custom-curated to fit our clients' event themes, budgets and goals. planit inc. will source, curate, package and ship meeting and event boxes directly to recipients' front doors.